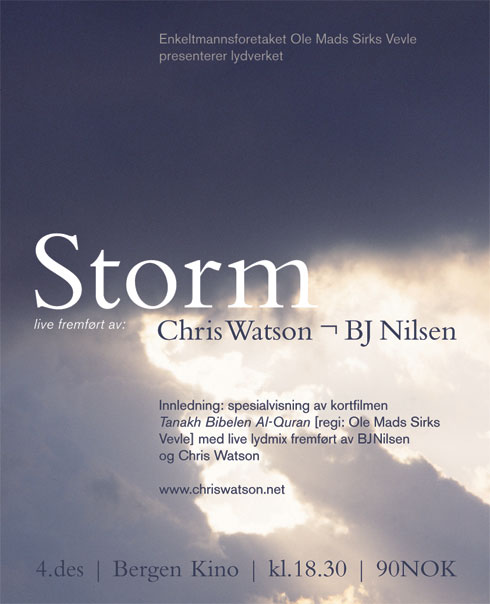 Storm – Live in Bergen
Chris Watson ¬ BJNilsen
Bergen Kino
4.12.07 MB1
Full Programme:
11:00 FILM SOUND: 'Atmospheres above and below the surface'
by Chris Watson & Mike Harding
Part One [1 hour]
Chris Watson – A masterclass on the principles used for recording wildlife in a natural habitat for film. Chris brings his expertise to reveal his own methods of recording in the wild. Recording in a variety of habitats has presented him with a series of unique challenges and in response he has developed his own particular methods… Recording vultures eating a zebra carcass, giant tortoises mating and many other examples of his recording will illustrate his talk. He also may play surround sound examples from the National Geographic Galapagos Series, which recently won the Asian Wildlife Film Award for Sound Recording. [This series was screened on NRK in October 2007.]
Interval [15 minutes]
Part Two [45 minutes]
Mike Harding – Chris Watson also releases his soundworks for CD & vinyl and film soundtracks. He also makes sound installations and live performances from his recordings [for Grieg07, 'Sleppet' in Bergen, September 2007 as part of the Grieg Centenary]. Mike will describe the relationship between Chris Watson, the label, Touch, and the publisher, Touch Music. He will also look at copyright and other practical issues concerning the non-musical aspects of his work. What happens when a copyright system formulated in 1913 comes up against modernist thinking? Mike here fleshes out the issues which for many remain invisible, but often inform and dictate responses to new challenges presented by the modern media.
18:30 Chris Watson & BJNilsen perform live their soundtrack to the film by Ole Mads Vevle 'Tanakh Bibelen Al-Quran'
18:45 Storm