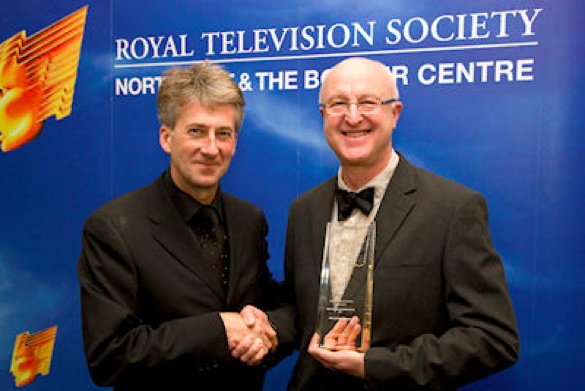 This award goes to the person, team or organisation whose work has made an outstanding contribution to any aspect of the industry — through broadcasting, production or technical sectors within the region and beyond. Their work, either in front of the camera or behind the scenes, should have made a significant and lasting impact on audiences and viewers in the North East and the Borders — and on a wider stage. The judges are keen to invite nominations from as broad a spectrum of talents as possible. Evidence of recent exceptional achievement(s) should be included. Nominations for the Centre Award were sent in confidence to the Chair of the Judges.
The Judges said:
Tonight's recipient is described as "one of the most modest, unassuming people you will ever meet." That counts a few of us out!
Our winner is one of the world's foremost wildlife sound recordists, whose major credits include productions like THE LIFE OF BIRDS (which won him a BAFTA in 1998), THE BLUE PLANET, THE LIFE OF MAMMALS and more recently the sensational FROZEN PLANET.
He started his career at Tyne Tees TV in the 1980's, and was soon developing a passionate interest in recording the sounds of wildlife, which led to major innovations in recording natural sound in often difficult, dangerous and challenging environments; an enrichment of sound recording techniques in the industry generally, and raising the bar in the understanding of the sounds of the natural world.
Although wildlife has always been his main focus, he's also expanded into experimental sound-work — for example the sound installation he created for Constable's 'Cornfield' at the National Gallery in London.
Our winner is known for his generosity in sharing and explaining his techniques, and his commitment to the importance of training and inspiring others.
Guest Presenter: PETER SALMON
Winner: CHRIS WATSON