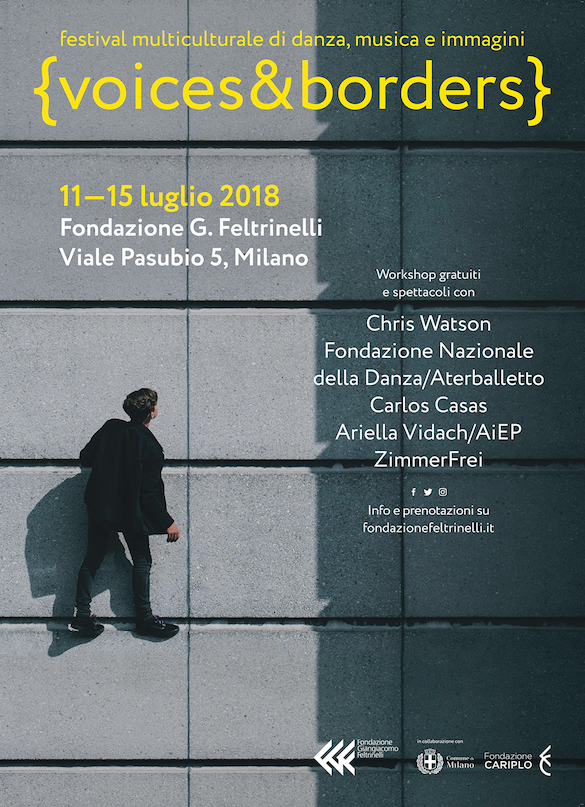 VOICES & BORDERS
The Multicultural Festival of Dance, Music, Images
With Chris Watson, Ariella Vidach, ZimmerFrei, Carlos Casas, Fondazione Nazionale della Danza
Opening nights, shows, free workshops and performances
The sounds of the planet's oceans in an unpublished live and the rhythms of the city to run after in the Sempione park, the bodies of migrant women coming from the southern shores of the Mediterranean in a dancing ritual. Then documentaries on popular tales born in suburban bars and in ports of the seaside towns and artistic walks through Milano Chinatown Via Paolo Sarpi.
Voices & Borders is the multicultural festival of dance, music and images, promoted by Fondazione Giangiacomo Feltrinelli from 11 to 15 July in Viale Pasubio 5 in Milan.
Five days with five artists: Chris Watson (sound recording), Ariella Vidach and Fondazione Nazionale della Danza (dance), ZimmerFrei and Carlos Casas (video art); a key word for every artist – water, democracy, rebellion, city, diversity – able to tell to the public some of the most important topics addressed Stagione Ribelle, the program of initiatives of Fondazione Giangiacomo Feltrinelli that has animated the research center spaces by September 2017 to July 2018.