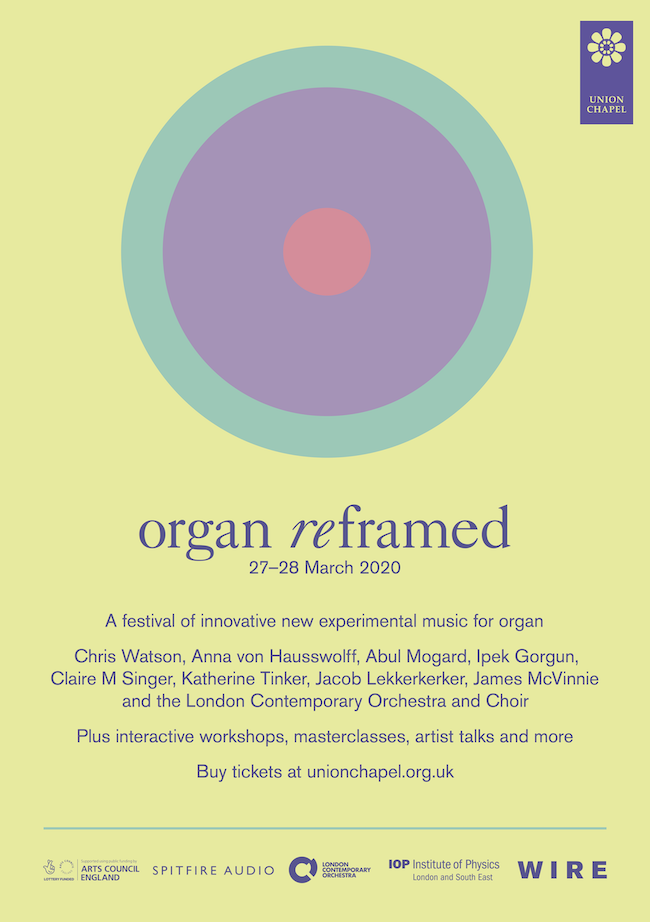 On the 27th March 2020 the fourth annual organ reframed returns to Union Chapel with a programme packed full of innovative music. Alongside headline performances, the two-day international festival will also feature talks, masterclasses, an interactive soundscape and family-friendly workshops.
organ reframed launches with three new works composed and performed by artists known for redefining their fields: Anna von Hausswolff renowned for her gothic organ creations, enigma Abul Mogard a synth visionary, and Ipek Gorgun a composer of energetic, textural masterpieces. All three works for organ, electronics and the London Contemporary Orchestra will push Union Chapel's sonic possibilities to the extreme.
The Saturday afternoon will see the chapel transformed by sounds and rhythms echoing the seasonal shift of the Highland year. This free installation by Chris Watson and Claire M Singer will feature the wind, weather and animals of Scotland. These sounds will interact with the organ played by James McVinnie, Katherine Tinker and Jacob Lekkerkerker.
The festival concludes on Saturday evening with the world premiere of Voci del Vento by Chris Watson and Claire M Singer. This collaborative work will combine organ, field recordings, modular synths, the London Contemporary Orchestra and Choir to transport audiences on an epic journey from pole to pole.
Chris Watson, is a founding member of the influential experimental music group Cabaret Voltaire. He is famously known for his recording of wildlife sound for David Attenborough's documentaries and his ground-breaking work on Grammy nominated Chernobyl, with Hildur Gudnadottir. His 2003 release Weather Report was voted as one of the 100 best albums to hear before you die by The Guardian.
Speaking about the festival Chris Watson said, "I'm thrilled by the prospect of bringing the natural world into the musically inspiring environment of Union Chapel and collaborating with Claire M Singer for the next Organ Reframed". Claire M Singer is known for her experimental approach to the organ and for her critically acclaimed releases on the prolific label Touch.
organ reframed is brought to you by Union Chapel Project, in partnership with the London Contemporary Orchestra and Spitfire Audio with generous support from Arts Council England and the Institute of Physics.
Tickets and full line up information are now available from Union Chapel