11:02 – 11:30
Producer: Sarah Blunt
From The Radio Times: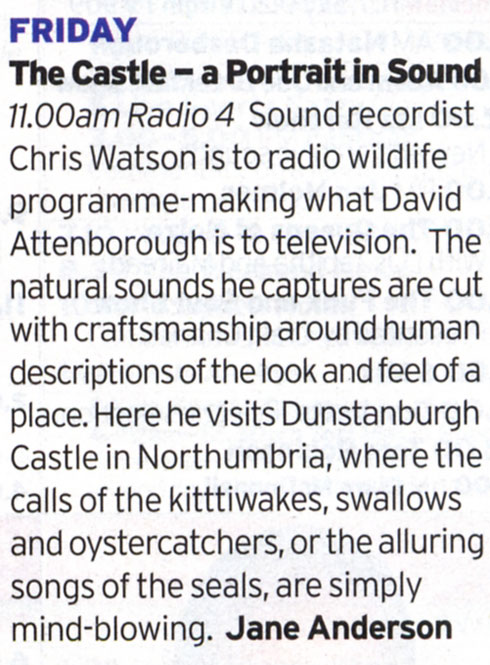 You can also read a review from The Observer: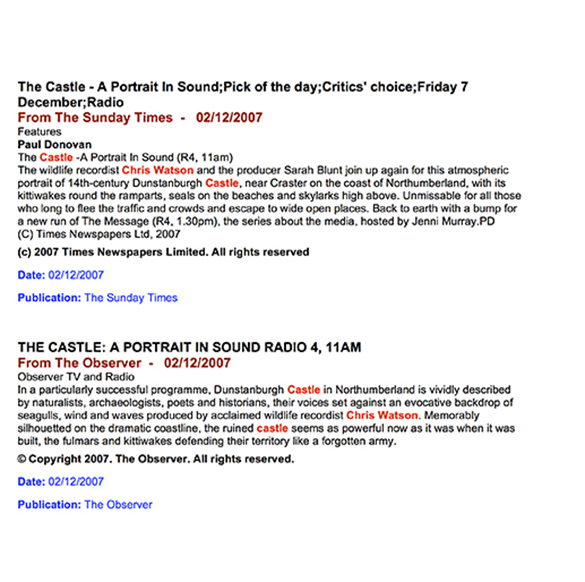 It should also be available to listen to here for a week after the broadcast
A powerful, evocative sound portrait of Dunstanburgh Castle in Northumberland; its wild inhabitants and ancient ruins. The magnificent ruins of Dunstanburgh castle are a dramatic sight on the Northumberland coastline, looking like a huge set of broken teeth or giant fingers stretching towards the sky out of the vast grey shelf of whin sill rock on which it stands. Built in the 14th century as a piece of political theatre by the Earl of Lancaster and witness to a history of war and turmoil, today the vast skeletal remains have been reclaimed by Nature. In place of battle cries, there are the cries of birds, the roar of the wind, and the thunder of the sea.
Weaving together the voices of naturalists, archaeologists and a poet and historian with sounds specially recorded by wildlife sound recordist Chris Watson, this rich, powerful and evocative sound portrait, explores the history of the castle and its relationship with the landscape, wildlife and natural elements.
"The castle has just so many incredible sounds, it's just full of music", says poet and historian Katrina Porteus of the sounds which reverberate around the castle walls.
G2: Radio: Pick of the day from The Guardian Features Pages by Phil Daoust:
"Complaining that there's too much Chris Watson on the airwaves is a bit like moaning about an excess of Attenboroughs. OK, perhaps Watson's not quite in that league, but he has been indefatigable in bringing nature's splendours blah blah to radio audiences. Nary a weasel wees in the woods without Watson being there to record it. Lately he's been lurking in Dunstanburgh Castle in Northumberland. Built in the 14th century by the Earl of Lan-caster, this vast fortress has since been reclaimed by nature, and its skeletal remains echo to the cries of kittiwakes, the roar of the wind and the gentle waffle of archaeologists and historians. They all come together in The Castle: A Portrait in Sound."
OTV: FRIDAY 7 DECEMBER: RADIO CHOICE: THE CASTLE: A PORTRAIT IN SOUND: RADIO 4, 11AM From The Observer TV and Radio by Stephanie Billen
"In a particularly successful programme, Dunstanburgh Castle in Northumberland is vividly described by naturalists, archaeologists, poets and historians, their voices set against an evocative backdrop of seagulls, wind and waves produced by acclaimed wildlife recordist Chris Watson. Memorably silhouetted on the dramatic coastline, the ruined castle seems as powerful now as it was when it was built, the fulmars and kittiwakes defending their territory like a forgotten army."
The Castle – A Portrait In Sound; Pick of the day; Critics' choice from The Sunday Times Features by Paul Donovan
"The wildlife recordist Chris Watson and the producer Sarah Blunt join up again for this atmospheric portrait of 14th-century Dunstanburgh Castle, near Craster on the coast of Northumberland, with its kittiwakes round the ramparts, seals on the beaches and skylarks high above. Unmissable for all those who long to flee the traffic and crowds and escape to wide open places."
Radio Choice TV & Radio from The Times Features by Chris Campling
"The 14th-century ruin of Dunstanburgh Castle, perched on the Northumberland coast, resembles nothing so much as a set of broken teeth, an inhospitable place at best -but not if you're a bird, or the wind, or the sound of the sea. And it is their life that the wildlife recordist Chris Watson (above) has captured so evocatively."