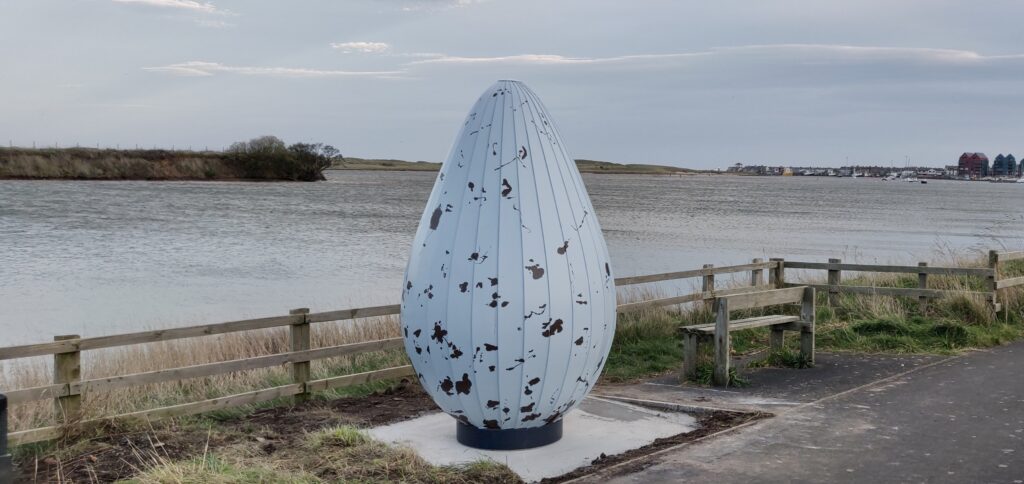 sea pies and a dokie's egg: an avian calendar for amble, by alec finlay & chris watson
Release date: 1st December 2022
5 tracks – DL only
Now available on Bandcamp here
1. Sea pies and a Dokie's egg
2. January-March
3. April-June
4. July-September
5. October-December
sea pies and a dokie's egg, an avian calendar for amble, accompanies a shelter, the dokie's egg, designed by Alec Finlay, made by Alistair Letch. The audio artwork is accompanied by a calendrical poem by Alec, with contributions from Paul Morrison (RSPB) and Chris Watson, identifying the bird species.
A dokie is a local byname for a guillemot or auk, collected in newton by the sea by Katrina Porteous; a sea-pie is an oyster catcher.
The shelter installed at Amble is a hybrid design inspired by the dokie's pear-shaped egg and lapstrake hull of a coble fishing boat. Alec was invited to create the artwork for 'Amble Bord Waalk', a bird trail commissioned by Amble Development Trust which opened to the public in Winter 2022.
The Dokie's Egg, Amble, Alec Finlay in collaboration with Alistair Letch and Chris Watson; photo by AF, 2022
Matthew Blackwell writes in Bandcamp Daily (27th Feb 2023):
"It's difficult to overstate the importance of Chris Watson to field recording. In addition to an impressive body of solo work, Watson is sought after for nature documentaries with David Attenborough and others. Sea Pies and a Dokie's Egg is the latest in a series of collaborations between Watson and Alec Finlay. Watson's recordings of birds in and around the port of Amble, England accompany Finlay's sculpture of a dokie's egg commissioned for the town's "Bord Waalk" art trail. Birds from throughout the year are represented in the recording and identified via a poem written by Finlay. The album is a crash course in ornithology, remarkable for the clarity of the birds' songs and calls. As a listening experience, the sheer variety of sounds, from the stonechat's clacking to the eider's bizarre whooping, continually surprises. Though a minor entry in Watson's daunting discography, Sea Pies and a Dokie's Egg is exemplary of his abilities as a field recordist and as a wildlife expert."